TRAVEL BOOKING
We want to make the booking process as simple and customer-friendly as possible and offer two options:
1. Direct Booking at Amadeus
Please fill out the following form with as much detail as possible. Then send it to us and we will confirm your reservation within 24 hours. Payment is usually by foreign bank transfer in USD. Many services can also be paid by credit card.
2. Booking through a reputable Tour Operator in your home country
You like our travel offer, but you do not want to book directly in Costa Rica. You can book your selected Travel from your home country through a reputable Tour Operator with an extra fee. Our partner Agents are members of National and International Travel Associations and comply with all country specific regulations for the travel industry. You will also be able to book, with them, your flight to Costa Rica, often at discounted prices. We highly recommend a travel and / or cancellation insurance.
---
Booking inquiry - non obligatory and free of charge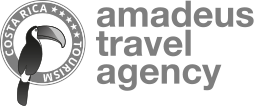 We would like to thank all our guests who have been travelling with us since 1994 in the most beautiful time of the year - their well-deserved holidays. When developing itineraries for groups and individual travelers, selecting our local service partners and caring about the well-being of our guests, we always focus on the highest possible quality standards. Since the founding of Amadeus Travel, we have been committed to sustainable tourism as the only long-term viable form of tourism, e.g. through our social commitment, visiting and supporting private and state nature reserves as well as the training of our team and experienced, fully licenced tour guides.